On March 4, 2019, Ohio Family to Family, along with Ohio Waiver Nursing Coalition members, met with the new administration at the Ohio Department of Developmental Disabilities (DODD).
The meeting was educational and positive.  They invited us back in April to work on some of our recommendations for supporting families.
This meeting will be held on Wednesday, February 13 from 9:30am – 1:00pm, 420 Washington Street, Cuyahoga Falls, OH
Beth Goodman, an ESC Psychologist will explain Emotional IQ and share strategies and resources we can use to teach Soft Skills to our children, teens and young adults.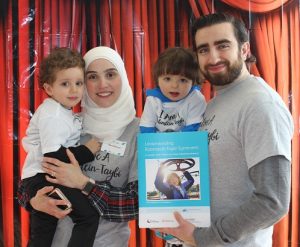 On the last weekend in January, the UCCEDD at Cincinnati Children's hosted an RTS booklet release party at the Newport Aquarium, drawing over 100 guests from as far as Michigan, Illinois and Tennessee as well as regional guests from Indiana, Kentucky and Ohio! The booklet, "Understanding Rubinstein-Taybi Syndrome: A Guide for Families and Professionals" was developed to help family members of children with Rubinstein-Taybi Syndrome better explain their child's condition to healthcare providers, teachers and family members. The booklet and event could not have happened with the generous support of the Dr. Jack Rubinstein Foundation at Cincinnati Children's.
Our hope is to advocate for nursing solutions and policy changes that improve the health and safety of children and youth with special health care needs.
In 2019 OHF2F will:
Lead the Coalition for Waiver Nursing meetings and networking
Continue conversations with DODD and Medicaid leadership and educate them on the impact of their actions, work on collaborations, and present potential solutions.
Meet with and educate new Ohio legislators, policymakers, and leadership of DODD and Medicaid on this nursing care issue once new agency leadership is in place in January 2019.
Add information and resources on the Ohio F2F website for families impacted by the new rules on Nursing and Nursing Delegation
We urge families to contact us to share your stories and to gain support by phone at 844-644-6323 or by email at ohiof2f@cchmc.org. Or, Disability Rights Ohio intake department at (614) 466-7264 or (800) 282-9181.
To apply: Submit brief cover letter and CV/resume via email to Kara Ayers, PhD, UCCEDD Associate Director, kara.ayers@cchmc.org
The Health Policy Institute of Ohio (HPIO) has been commissioned by the Ohio Department of Health to gather stakeholder input for the Maternal and Child Health (MCH) and Maternal, Infant and Early Childhood Home Visiting (MIECHV) five-year assessments.
You are invited to complete an online survey (5-20 minutes depending on how many population groups you select) to identify the greatest needs for one or more of the following five population domains in Ohio:
Maternal/women's health
Perinatal/infant health
Child health
Children with special healthcare needs
Adolescent/young adult health
The survey will remain open through Tuesday, December 4th. Thank you for your input.
Are you a parent or caregiver of an individual age 12-30 years living with a complex neurologic condition who is not expected to live fully independently in adulthood?
CNF's Caregiver Perspectives on Transitions Project is interested in your experiences with different aspects of transition to adulthood for children/young adults living with complex neurologic conditions.
Through online focus groups (conducted earlier this year) and a survey (available now until October 8), we are exploring and highlighting medical transitions, as well as transitions related to community-based supports, residential services, and social/recreational supports.