At our recent Empowering Families Conference in Cincinnati, one of the sessions focused on "How to Become My Own Care Coordinator". You can access the recordings here (Part 1) and here (Part 2).
The Autism Self Advocacy Network (ASAN) has developed a plain language toolkit called Follow the Money: The U.S. Budget and You. This resource, not only for people with Autism explains what the federal budget is, what taxes are, what the budget process is, what happens when the budget process doesn't work and what we can do to influence the federal budget.
Disability Rights Ohio receives many calls from people across the state after their Medicaid insurance denies their requests for services or equipment and they find themselves entangled in the very complicated Medicaid appeals process. In an effort to help more people get the services or equipment they need, Disability Rights Ohio has developed partnerships with Nationwide Insurance and McDonald Hopkins, LLC, to connect people with volunteer attorneys and paralegals who provide free legal representation in certain Medicaid appeal cases. Disability Rights Ohio works collaboratively with the Nationwide and McDonald Hopkins volunteer teams to screen and refer eligible clients and provide training, case preparation and ongoing support to the volunteers.
The Ohio Developmental Disabilities Council has released a new book designed to improve understanding of the different strategies available for estate and special needs planning for individuals with disabilities, their families and others.
On March 4, 2019, Ohio Family to Family, along with Ohio Waiver Nursing Coalition members, met with the new administration at the Ohio Department of Developmental Disabilities (DODD).
The meeting was educational and positive.  They invited us back in April to work on some of our recommendations for supporting families.
This meeting will be held on Wednesday, February 13 from 9:30am – 1:00pm, 420 Washington Street, Cuyahoga Falls, OH
Beth Goodman, an ESC Psychologist will explain Emotional IQ and share strategies and resources we can use to teach Soft Skills to our children, teens and young adults.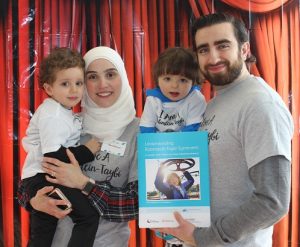 On the last weekend in January, the UCCEDD at Cincinnati Children's hosted an RTS booklet release party at the Newport Aquarium, drawing over 100 guests from as far as Michigan, Illinois and Tennessee as well as regional guests from Indiana, Kentucky and Ohio! The booklet, "Understanding Rubinstein-Taybi Syndrome: A Guide for Families and Professionals" was developed to help family members of children with Rubinstein-Taybi Syndrome better explain their child's condition to healthcare providers, teachers and family members. The booklet and event could not have happened with the generous support of the Dr. Jack Rubinstein Foundation at Cincinnati Children's.
Our hope is to advocate for nursing solutions and policy changes that improve the health and safety of children and youth with special health care needs.
In 2019 OHF2F will:
Lead the Coalition for Waiver Nursing meetings and networking
Continue conversations with DODD and Medicaid leadership and educate them on the impact of their actions, work on collaborations, and present potential solutions.
Meet with and educate new Ohio legislators, policymakers, and leadership of DODD and Medicaid on this nursing care issue once new agency leadership is in place in January 2019.
Add information and resources on the Ohio F2F website for families impacted by the new rules on Nursing and Nursing Delegation
We urge families to contact us to share your stories and to gain support by phone at 844-644-6323 or by email at ohiof2f@cchmc.org. Or, Disability Rights Ohio intake department at (614) 466-7264 or (800) 282-9181.