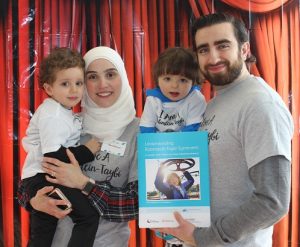 On the last weekend in January, the UCCEDD at Cincinnati Children's hosted an RTS booklet release party at the Newport Aquarium, drawing over 100 guests from as far as Michigan, Illinois and Tennessee as well as regional guests from Indiana, Kentucky and Ohio! The booklet, "Understanding Rubinstein-Taybi Syndrome: A Guide for Families and Professionals" was developed to help family members of children with Rubinstein-Taybi Syndrome better explain their child's condition to healthcare providers, teachers and family members. The booklet and event could not have happened with the generous support of the Dr. Jack Rubinstein Foundation at Cincinnati Children's.
The family and child stories included in the booklet are meant to emphasize the beauty and joy of sharing life with an individual with RTS. Medical and developmental information in the booklet empower families to know what to watch for, and attend to, in order to create a healthy, happy, safe and productive life for their loved one in the community.
RTS is a rare genetic condition that affects approximately 1 in 100,000 to 125,000 newborns each year worldwide. Because the syndrome is so rare, when families are able to connect with and support each other, it is very powerful. Here's what a couple of families had to say about the event.
"The booklet release event meant so much to me. It's been a while since we've connected with our RTS community and my heart was full."
"Today is a day I will never forget. Getting to see families that we haven't seen in a while and meeting new families always holds a special place in my heart. The red carpet event at which our children could walk up and pick up their copy of the booklet was spectacular."
You can access the booklet here.