To apply: Submit brief cover letter and CV/resume via email to Kara Ayers, PhD, UCCEDD Associate Director, kara.ayers@cchmc.org
The Health Policy Institute of Ohio (HPIO) has been commissioned by the Ohio Department of Health to gather stakeholder input for the Maternal and Child Health (MCH) and Maternal, Infant and Early Childhood Home Visiting (MIECHV) five-year assessments.
You are invited to complete an online survey (5-20 minutes depending on how many population groups you select) to identify the greatest needs for one or more of the following five population domains in Ohio:
Maternal/women's health
Perinatal/infant health
Child health
Children with special healthcare needs
Adolescent/young adult health
The survey will remain open through Tuesday, December 4th. Thank you for your input.
Are you a parent or caregiver of an individual age 12-30 years living with a complex neurologic condition who is not expected to live fully independently in adulthood?
CNF's Caregiver Perspectives on Transitions Project is interested in your experiences with different aspects of transition to adulthood for children/young adults living with complex neurologic conditions.
Through online focus groups (conducted earlier this year) and a survey (available now until October 8), we are exploring and highlighting medical transitions, as well as transitions related to community-based supports, residential services, and social/recreational supports.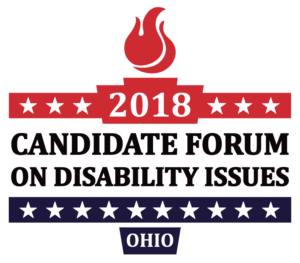 The Ohio Candidate Forum on Disability Issues will provide a format for the candidates for Ohio Governor and U.S. Senate to inform the disability community about their positions on disability-related issues/policy. Engagement with our elected officials about disability-related issues is important. It impacts policy matters affecting approximately two million Ohioans with disabilities, at least 13% of our state's population.
When: Thursday, July 26, 2018, 12:30 – 4:30 p.m.
Location: Ohio State University Fawcett Event Center, 2400 Olentangy River Rd., Columbus, OH 43210
Moderator: Mr. Alan Johnson, (Retired) Columbus Dispatch Statehouse Reporter
Keynote: John D. Kemp, Esq., Life-long advocate and co-author of ADA.
The Forum is free but you must  register here
The NIDILRR-funded Collaborative on Health Reform and Independent Living (CHRIL) is looking for adults aged 18-62 with disabilities to complete an online survey about getting and using health insurance and health care services – the National Survey on Health Reform & Disability.
To take the survey go to:  http://bit.ly/disabilityhealth
Why? We want to know how the Affordable Care Act (ACA) is affecting your life. If you have private insurance, insurance from an employer, Medicaid, Medicare, or no insurance please take the survey.
Who? Adults ages 18 to 62 with any type of disability, chronic health condition or mental illness.
How? The survey should take about 20 minutes to complete and your responses are anonymous.
During the week of May 27th – June 2nd the last of 2 drawings to win a $100 gift card will be held. The online survey is fully accessible for mobile devices and screenreaders, but if you prefer to take the survey over the phone or have any questions about participating, please call toll-free 1-855-556-6328 (Voice/TTY) or email healthsurvey@ku.edu. For more information about CHRIL go to: www.chril.org
Check out the first edition of the Ohio Family 2 Family newsletter here
One day in kindergarten, my daughter's positioning stroller tipped over in gym class. Since Lianna has no self defense reflexes, she hit her head on the gym floor.  I was called immediately and arrived at the school in less than 10 minutes. She had a glorious goose egg on the middle of her forehead.
As a precaution, a teacher who was also a volunteer EMT thought it wouldn't hurt to have her checked out.  At that time, to be seen promptly at the local hospital, you had to arrive by ambulance. So the teacher/EMT personally called our local life squad and we were transported without lights and sirens so as not to scare Lianna or other students.
We have had a great response to our first series of Transition Bootcamp in Central Ohio. Monthly workshops on transition topics targeting families of teens and young adults have been held throughout the current school year at the Clark Hall building of Gahanna High School.  This year we've highlighted education, employment, housing, guardianship and alternatives, healthcare, social and spiritual issues, Medicaid & waivers, and financial planning.  We've heard speakers from Disability Rights Ohio, Opportunities for Ohioans with Disabilities, the Ohio Association of County Boards, Ohio Provider Resource Association, Franklin County Bd. Of DD, Creative Housing, Ohio Dept. of DD, Wynn-Reeth, Nationwide Children's Hospital, The Autism Society of Central Ohio, and the Arc of Ohio.  We are already using input from attendees to plan next year's workshop series.  Check out training opportunities here and across the state on our website at www.ohiof2f.org and click on "Trainings."
Central Ohio was the site of our first full-day conference on April 13th for professionals and families with the theme of Strengthening Parent-Professional Partnerships.  Speakers from children's hospitals in Cincinnati, Dayton and Columbus presented on care coordination, shared decision making, family engagement and the Medical Home model.  More than 150 attendees participated!
Ohio F2F once again participated in the Franklin County provider fair on April 18th.  Over 100 waiver providers and community organizations that serve individuals with disabilities around Central Ohio were represented, and families could gather information on whatever service they need from several providers at one event, plus chat with them in person about their specific situation.