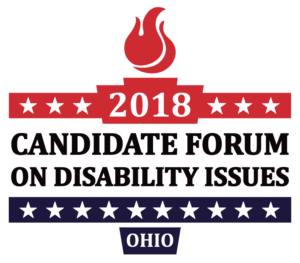 The Ohio Candidate Forum on Disability Issues will provide a format for the candidates for Ohio Governor and U.S. Senate to inform the disability community about their positions on disability-related issues/policy. Engagement with our elected officials about disability-related issues is important. It impacts policy matters affecting approximately two million Ohioans with disabilities, at least 13% of our state's population.
When: Thursday, July 26, 2018, 12:30 – 4:30 p.m.
Location: Ohio State University Fawcett Event Center, 2400 Olentangy River Rd., Columbus, OH 43210
Moderator: Mr. Alan Johnson, (Retired) Columbus Dispatch Statehouse Reporter
Keynote: John D. Kemp, Esq., Life-long advocate and co-author of ADA.
The Forum is free but you must  register here